Car2Go Meeting Notes: Is Car2Go a Good Deal for Torrance? Is it even legal?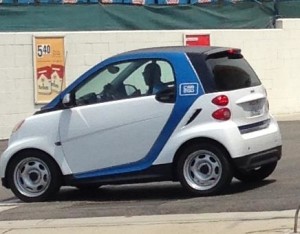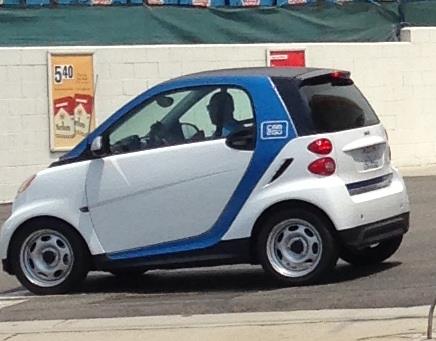 Fran Fulton from the Torrance economic development department and Will Berry location manger from Car2Go opened the Car2Go meeting by briefly explaining the service.  Ms. Fulton then opened the meeting for public comments.
Many residents raised concerns about the service and the potential loss of available parking spaces.  Aurelio Mattucci, a recent candidate for City Council, objected that Car2Go was able to utilize public property at the expense of the taxpayer to gain a competitive advantage.  He also commented that it could lead to other auto rental services such as U-Haul trucks and Enterprise rent-a-cars parked on public streets.  John Paul Tabakian, another recent candidate for Council, questioned the legality of Car2Go and posited that the City opened itself up to lawsuits by allowing Car2Go to violate one of its own ordinances.  That ordinance is Article 88.5.9 and it states the following:
"Any vehicle with advertising permanently attached to it or temporarily placed upon it for the purpose of advertising a business, service or product shall not be parked on private or public property so as to serve as a billboard or sign."
Mark Stephenson, a frequent commentator at Council meetings, noted it could undermine significant investments the City has already made in other public transit avenues such as the forthcoming mass transit center thereby diminishing the value of those investments to the taxpayer.
Other residents expressed support for the service citing increased ability to reduce the number of personally owned vehicles and availability of more affordable short trips.
City Staff and Car2Go also responded to several questions raised including the following:
Q.  Has the city met with Car2Go and mapped out the city providing suggestions on where they could park their cars that would be less intrusive to residents as indicated by former Mayor Scotto in a recent Daily Breeze article?
A.  No.  The City has not met with Car2Go on this subject and currently has no restrictions on what public parking spaces Car2Go can utilize within Torrance.
Q.  What is the exact term of the agreement and will other entities be afforded the same deal.
A.  Car2Go will pay just over $5K for an annual business license.  This was based on Torrance charging $108 per car estimated to be used within Torrance.  Car2Go provided the 48 car estimate.   Yes, other entities will be afforded the same deal.
Q.  How did the Car2Go agreement bypass City Council approval?
A.  Torrance and Car2Go could not come to terms on a franchise fee as Car2Go did not want to pay the fees they are paying to other local cities to compensate for lost parking meter revenue.  In Redondo Beach and Hermosa Beach these fees amount to about $40K respectively.  When talks broke down, it was determined that Car2Go could go forward solely with the business license and that Council approval was not necessary.
Q.  How will the city regulate Car2Go?  For example, one citizen expressed concern that they recently had 3 Car2Go cars parked at one intersection.  Car2Go would come and rotate the cars every 3 days to avoid the 72 hour no parking rule.
A.  City Staff will let Car2Go know about any complaints and will rely upon Car2Go to self-regulate.
Q.  Will Car2Go be subject to ticketing for Street Sweeping and who will pay the tickets?
A.  Car2Go consumers are responsible to not park on public streets that have scheduled Street Sweeping within 24 hours.  If they do and the car is ticketed the last user of the vehicle will owe the ticket.
It was a lively meeting with one resident drawing chuckles from the crowd when she exasperatedly queried company officials, "If you only have 15 North American cities that you operate within, WHY TORRANCE??"