Details of Fireworks Show Kept Tightly Under Wraps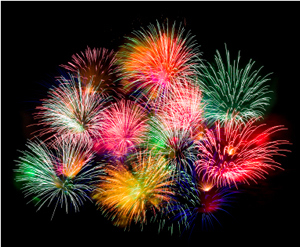 Mayor Furey capped his recent State of the City address by unveiling that a 4th of July fireworks celebration would be returning to Torrance.
In making the surprise announcement the Mayor commented that, "I know this popular event has been missed by many, and I'm happy to announce, they will once again light up our sky!"
The issue has re-surfaced several times over the past few years with the Council deciding each time not to go forward. It was most recently mentioned as part of the budget discussions last May when the Council opted not to include in the budget a scaled down version of the fireworks that would have cost the City $75K.
Mayor Furey continues to keep a tight lid, however, on details about the event leaving several questions unanswered such as:
Will they be held at Wilson Park like they used to be or has the City decided upon some other venue?
What, if anything, is different about this proposal from those previously brought forward?
Has an entity come forward to sponsor the event and pay for the costs?
Is this a long-term commitment or will they be returning for only one year?
Mayor Furey responded to an e-mail seeking answers to these questions only by stating, "All I can say at this time is that I feel confident that the City of Torrance will have a fireworks display next 4th of July.  And, I believe that all of the questions posed will be determined in the next several months."
He further explained that he would be "bringing forth an oral request when the council next meets asking staff to bring back an agenda item for discussion to specifically address fireworks.  When the item does come forward, it will be on the council agenda for full council and public discussion."
In addition to Mayor Furey, I was able to speak with two other members of the Council who also could provide no additional information.
So while it appears fireworks will be returning to the City, those excited about such a prospect will have to wait a little longer until more details about the event are released.