Aurelio Mattucci – A Force to be Reckoned With
Aurelio Mattucci once pushed back against criticism that he was a "loose cannon" by saying:  "If being passionate about what you believe in, caring about your neighborhood, making sure small business owners are heard, and actually doing something about it, is a bad thing, then yes, I am a loose cannon.  I suggest you don't stand in front of me."  No matter how you would characterize him, Aurelio is definitely a force to be reckoned with that is making things happen in Torrance.
As the founder of the Unified Small Business Alliance (USBA), the former Torrance City Council candidate is known as a staunch advocate for small business concerns.  Yet, despite that role, he somehow still finds time to run a business of his own and volunteer with community groups like the Torrance Rose Float Association.  He also recently announced that he is running for President of the local Beach Cities Republicans (BCR) group.
Under his leadership, the USBA has grown tremendously and recently celebrated its one year anniversary.  With its marquee event, the USBA Community Expo coming up this Wednesday, I recently had the chance to speak with Aurelio about the USBA and his run for President of the BCR.
Q. What motivates you to be so involved with the Community?
A. I am motivated by fear of what the future holds for our kids.  When I had my child, it changed my whole outlook on the future.  It wasn't just me now, but my child too and I am really concerned about the direction the community is headed.  I see it deteriorating on many different fronts, but I do have hope that we can turn it around and make positive changes in the community if we get involved.
Q. Why did you start the USBA?
A. As part of my profession, I visited a lot of small business owners.  I talked to them about how they were feeling and I started hearing a lot of complaints. Many small businesses, especially those with 1 to 10 employees, felt like their voices weren't being heard.  When I suggested they become more involved with organizations like the Chamber of Commerce they would express concern that the dues was too expensive and that the services offered were not tailored toward their needs.  This made me think that I should create an organization that was free of membership dues and that focused solely on small business concerns.
We initially organized as the Torrance Small Business Alliance, but shortly after organizing I was getting a lot of inquiries from businesses all around the South Bay that wanted to join so we changed the name to the Unified Small Business Alliance.  At our initial kick-off event in October of 2014 we had over 300 people attend and it's been very satisfying for me to see the organization grow ever since then.

Q. What does the USBA offer its members and what successes have you seen?
A. We had one company that was having some financial trouble and was looking at laying off their workers.  We were able to help that company tap into a local program where they were able to get some assistance to retain their workers.  We possibly helped to save 100 jobs in the South Bay and that made me feel very good about the relationships we have built and how we have been able to help our members.
As another example, we had one member that was having some challenges with the permitting process in one local city.  We have established a great relationship with that city and we were able to put the business in touch with the right people. We facilitated the process and got them the permits they needed within one hour.
Q. How many members do you currently have and what vision do you have for the future?
A. We are approaching 1600 members.  By the first quarter of next year, we would like to reach 2000 members in LA County and by the end of next year we would like to have 5000 members.  We are focused on meeting our current goals but in the future we are open to establishing chapters throughout California and even nationwide.  The larger we become the bigger voice we can have in influencing our government to enact pro small business legislation.
Q. Any particular issues you are actively advocating for or against?
A. One thing we are very concerned about is the push to enact a $15 minimum wage. We believe this would be very detrimental to small businesses and we have tried to educate locally elected officials about the consequences of enacting such legislation.  We believe that if cities enact such laws that it may force small businesses to shut down or relocate to other cities that have not imposed such requirements.  We are not against people making more money, but we believe that historically raising the minimum wage has not decreased poverty but has actually increased it as prices of products and services are raised to match the wage increases.  In my opinion, the best way to get out of poverty is either through education or learning a trade.  Working hard just doesn't cut it.  I used to dig ditches for minimum wage.  It was hard work, but I knew I couldn't support a family doing that so I learned a trade.
Q. You have a big event this Wednesday with the USBA Community Expo.  What is it and why should people attend?
A. This is a chance for businesses to network with one another and for the public to come support and meet local small business owners.  We want to bring awareness to how important small businesses are to the community.  In addition to the small businesses, we have invited many local politicians and they will be there and the public will have a chance to interact with them.  I want the public to know who is making decisions on their behalf.  The event is free to the public and we have sponsors that are giving out free food.
Q. In his recent State of the City address Mayor Furey was very high on the local business climate stating that "Business is Booming" in Torrance. You have said in the past that the business climate is weak and that businesses are shutting down.  How do you feel now?
A. I respect the Mayor greatly and I think he is doing a good job communicating with the small business community, but what he fails to mention is how many businesses have left the City or shutdown. How many businesses have shrunk?  The truth is that businesses are hurting.  Of course, you can't put all or even most of the blame on our local governments but going back to my platform when I was running for the City Council in Torrance I believe small things like reducing permit fees can make a difference.
If you have a small business with less than 10 employees or gross revenue of less than $500K your business license tax should be $99. You have to look at surrounding cities as competitors. Paying $300 a year just for a license, plus conditional use permits that will often range in the thousands of dollars, starts to add up when you own a small business. I want businesses to thrive, not survive. My goal is helping local cities understand what they can do to help small businesses prosper. I believe every city should have a small business campaign or Commission that is focused on helping businesses grow.  Torrance doesn't have that right now.  Why?  We have about 13,000 active business licenses, but no Commission from the City to represent them.
I really feel that small business is under-represented, under-served, and sometimes mistreated by City Halls in the South Bay.
When people go to apply for a license they often get the run around. You would think that if you went to apply for a business license that someone would say, thank you for choosing our city. No, instead people give you attitude and you get a stack of papers and obstacles you need to complete. The one stop shop in Torrance, for example, is not a one stop shop. All these things add up to challenges that the USBA wants to help fix. We need to do more than just say we are business friendly. We need to live it and do it.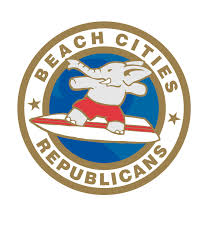 Q. Among your many endeavors, you also recently announced that you are running for BCR President, why?
A. I want to bring my experience in business and politics, as well as my experience in developing large influential networks to help us win South Bay elections.
I am confident that the future is bright for Republicans.  I see great opportunities to make a greater impact in our own South Bay cities, and as BCR President I would want to continue to work hard to build and unite our South Bay conservative community.
The USBA Second Annual Community Expo will be held at the Torrance Cultural Arts Center, 3300 Civic Center Drive, on Wednesday November 18th, from 12 noon to 7 pm.  It is free to the public and there will be free food and giveaways.