Resident Wages War against Penske and City of Torrance
Ken Christiansen is at war with Penske Cadillac and the City of Torrance and he is not backing down.  For Ken, nothing quite encapsulates the conflict like the time his son came to visit him upon returning from serving in the military overseas.  His son could not stand the noise and nuisance from the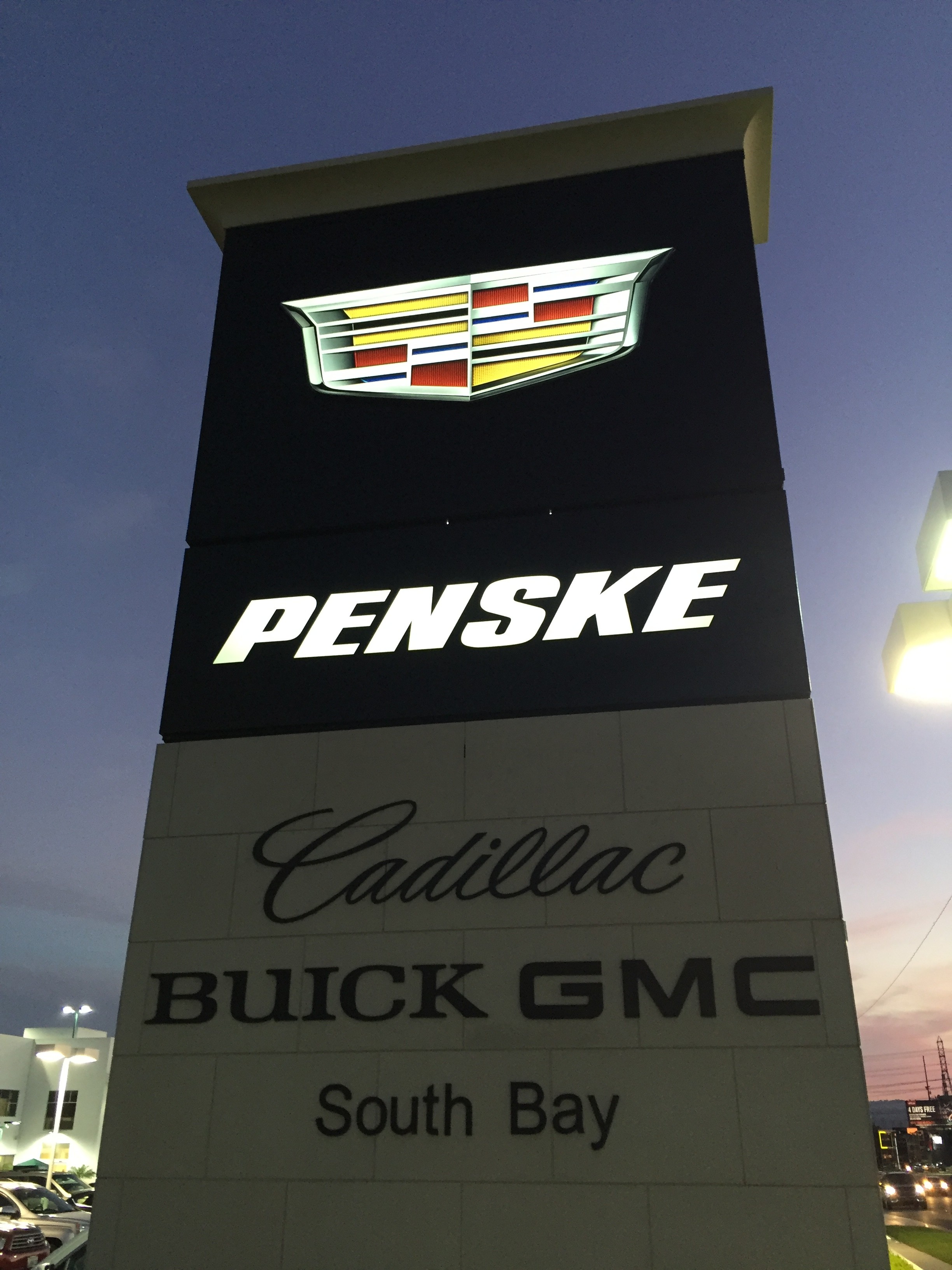 neighboring Penske dealership as it reminded him too much of a war zone and he had to stay at a friends instead of staying at his father's house.
The issues arose nearly a decade ago when the dealership expanded and upgraded the site.  Ken claims that affected residents were never notified about the expansion via the requisite mailers and had no opportunity to voice their concerns at Planning Commission meetings.  Ken also believes the City was complicit in allowing the remodel to go forward against code.
As an example, he cites municipal code Section 95.3.24 that requires that all work at an automobile repair shop be performed within a building.  He also cites 93.2.36 that imposes that auto dealerships maintain sufficient spaces for employee parking.  Despite these code sections, the repair bays were built without enclosing walls and there are not enough spaces for employee parking.  The City also allowed a non-permitted car wash to be constructed on the premises.
Penske's conditional use permit (CUP) formally approved in January 2006 imposed additional operating restrictions such as requiring all employees and visitors to park on site, banning chain link fences, and limiting nuisance and noise.  According to Ken, Penske has never abided by these restrictions triggering hundreds of complaints from many residents that have continued unabated to this day.
A sampling of those complaints include:
Parking: Penske employees use residential streets for parking resulting in high traffic and limited space for residents, tow trucks also drop cars off on the street
Noise: Horns honking 300 to 400 times a day, noise from air guns and other machinery in the open service bays, a compressor that runs 24/7 and omits a loud noise several times a minute, constant car alarms, construction of chain link fence instead of concrete barrier to act as sound barrier
Nuisance: Brake fluid and other hazardous waste dumped into storm drains that spills into Columbia Park, bright lights that shine all night into windows of surrounding homes, security cameras pointed at residents homes recording resident activities, rude and threatening employees that harass residents
One of Ken's neighbors summarized the situation as follows:
"We've all been experiencing migraine headaches. After some research, we realized it's the lights that shine into our home that are causing them. We've had to buy black out curtains for our entire house. We can't even open our windows or shades. Ever! It's so loud all the time. Car alarms go off all day and night. Loud machines are always going off. Horns honking at least a couple hundred times a day. Tow trucks at all hours waking us up. Constant trash from employees eating in their cars then throwing the trash in our front yard. Cigarette packs, cigarette butts, water bottles, soda cans, all kinds of trash gets thrown on our lawns and on Columbia parks parking area. All the employees park in front of my house leaving us with no parking.  We've experienced, on numerous occasions, men and woman, in their uniforms, doing sexual acts right in front of my house.  They do drugs in front of my house and on numerous occasions I've seen drug deals go down. They also have cameras pointing into my home … I personally don't feel safe here."
The City has attempted to resolve the conflict by coordinating a number of community round tables to mediate and address resident concerns, but the problems seem to only have escalated.  After one such meeting with Penske, Ken claims the Penske General Manager threatened that "he needed to be careful or he might find himself with a gunny sack over his head getting beat with a baseball bat."  That threat resulted in a call to the police.
In a recent e-mail dated the morning of August 12, 2015 Ken wrote to Torrance Senior Environmental Quality Officer, Sharron Jones, expressing some of his ongoing concerns and alluding to the incident where he says he was threatened.  That e-mail included the following demand:
"I still want an official comment on why Phil Bradshaw [City of Torrance Environmental Quality Officer] was in David Driscols [Penske General Manager] office when the police arrived when there is no way he could have gotten there after I was threatened and before the police got there. After begging him for city representation at the meeting he ends up being in the office the whole time. To clarify, with the spirit of transparency that the new mayor campaigned on, please explain why he refused to be at the meeting but needed to be in the office of the man who threatened me."
Shortly after sending the e-mail, Ken received a letter from the Community Development Department also dated August 12, 2015 stating that their office had received multiple complaints concerning Ken's property and that he was in violation of the Torrance Municipal Code for infractions such as:
Litter, trash, and debris on property and lack of maintenance of grounds
Operating a business from his home without a business license
Discontinuing garage space and parking a vehicle on lawn
Overgrown vegetation and shrubbery
The letter from the Community Development Department was signed by the very same Phil Bradshaw Ken had complained about in his e-mail.  Ken denies all the City's allegations and views the letter as pure retaliation and harassment against him because he called out one of the City employees for being in league with Penske.
In late September, Ken received another letter stating that the City would be scheduling a site inspection of his home the week of October 19th.  Ken has refused to allow City employees on his property for the site inspection and the matter is pending resolution.
Ken has not been able to sleep in his room for two years as the noise from the compressor has become intolerable.  When asked why he stays in his home, Ken said that his son fought in the military to preserve American values.  He asked what type of an example would he be if he sent his son off to war but was not willing to stand up to bullies and fight the battles here at home.  He plans to sue the City and is currently trying to obtain enough money to pay an attorney as he believes that is the only way he can get the City to enforce the Code and the Conditional Use Permit and restore peace to the local residents.