Torrance Proposes Steep Sewer Rate Increase; Protest Form Coming Due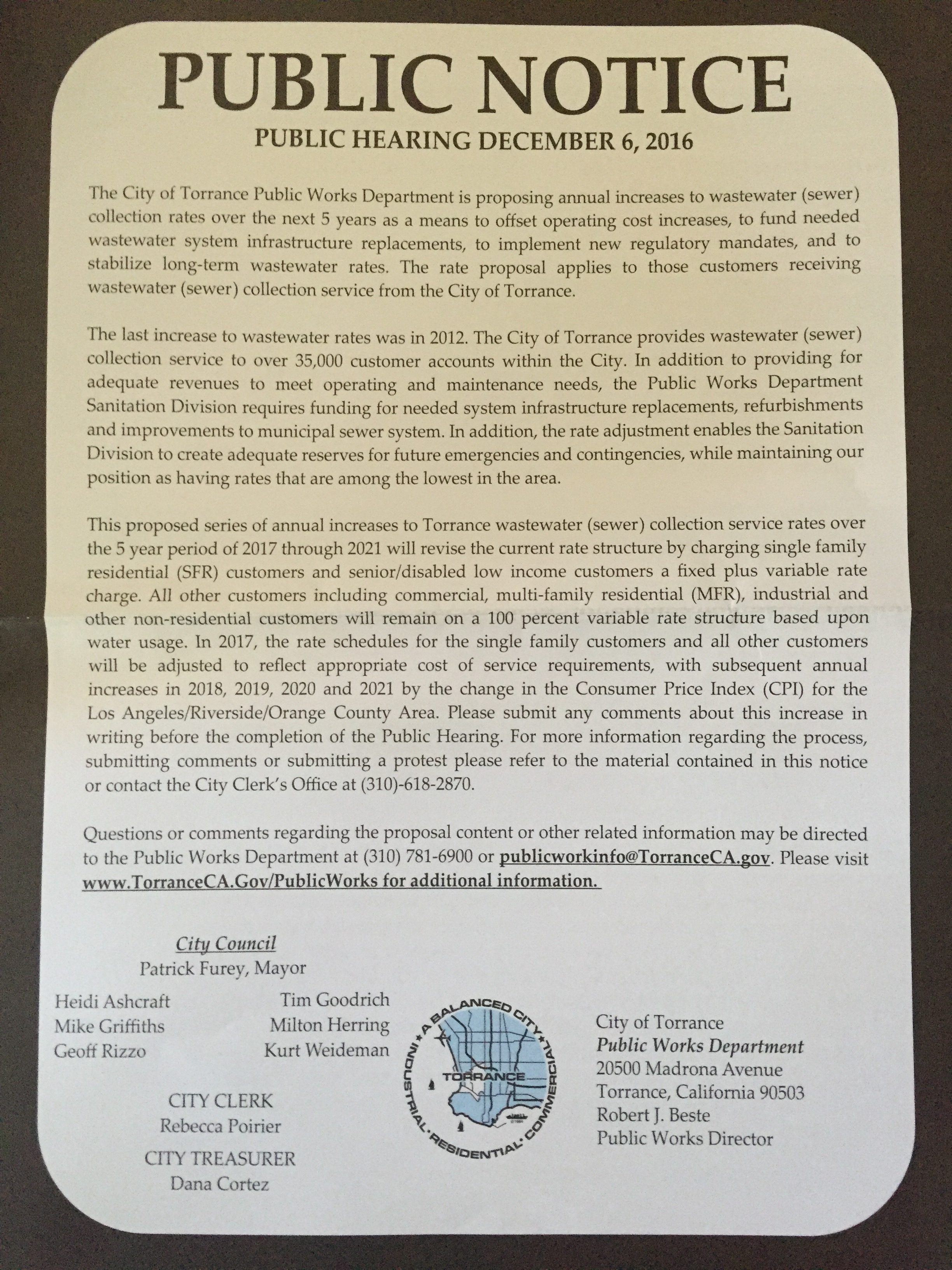 The Council is set to approve at its forthcoming meeting this Tuesday a series of annual sewer rate increases. The increases, if implemented, will likely double to triple the cost of service to the average consumer.  Under the proposal, initial rate increase will take effect as soon as 01 January 2017 and it is projected that a service that currently costs the average consumer $3.96 will jump to $8.05 by January 2018. That rate will then continue to go up through 2021.
The rate increase will yield substantial additional revenues for the City. The staff report indicates that revenues generated by the sewer rates are currently projected to yield $2.8 Million for FY 2017. Once the new rates come into effect, revenue is expected to increase by nearly $5 Million to $7.7 Million.
Under Proposition 218 revenues generated through sewer rates should be proportional to the costs it takes to provide the service. A public notice sent to affected residents indicates the increased revenue is needed to offset operating cost increases, to fund needed wastewater system infrastructure replacements, to implement new regulatory mandates, and to stabilize long-term wastewater rates.
Residents could block the proposed rate increases by a majority protest. For that to occur a majority (50% plus one) of account owners would have to submit a formal protest of the action to City Hall by the end of the public hearing to be held at the Council meeting this coming Tuesday. Protest forms, with instructions on how to complete them, were mailed to all account holders.
If the rate increase passes, it will apply to all residents receiving sewer collection service from the City of Torrance.