Torrance "Disunified" School District: Intervention Program Raises Equity Concerns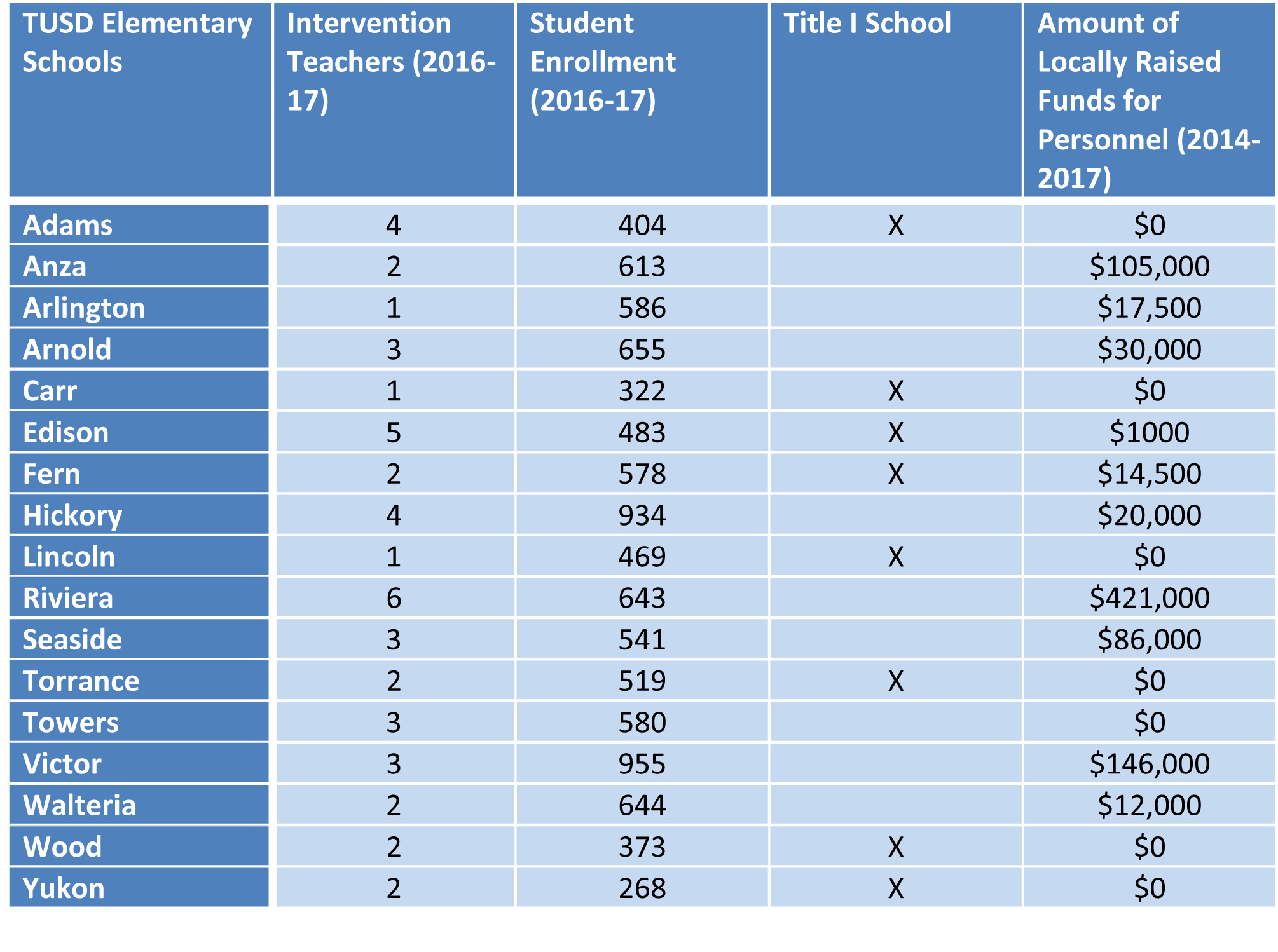 Data obtained via a public records request shows a surprising imbalance with regard to the number of intervention teachers assigned to each elementary school site within the Torrance Unified School District.
The imbalance raises questions about equity as some schools were forced to raise funds to hire intervention staff, and part-time music and science teachers, while other similarly situated schools received the same benefit at District expense.
The disparities are apparent among the non-title I schools. Riviera, which is located in one of the wealthier areas of Torrance, raised the astonishing sum of $421,000 over the past three years in order to pay for its six intervention teachers while Hickory received 4 intervention teachers even though it has only raised $20,000 over the same time period.
Anza has a booster club dedicated solely to raising funds for intervention teachers. That organization, called the Anza Eagle Education Alliance, has raised $105,000 over the past three years. Utilizing those funds Anza was able to hire two intervention teachers the past school year. Towers elementary, on the other hand, did not raise any funds at all in the past three years towards personnel expenses and yet still had 3 intervention teachers assigned to the school.
This raises the possibility that the District is essentially redistributing the wealth by not providing intervention resources at schools with a proven track record of fundraising for those expenses. If that is the case it could irk parents at schools like Anza, Riviera, Seaside, and Victor who put in long hours fundraising through various means in order to pay for services that other similarly situated schools in the District are able to receive without commensurate fundraising efforts.
Disparities also exist within the Title I schools. Edison had five intervention teachers while other schools like Lincoln and Carr were only assigned one. Fern, Torrance, Wood, and Yukon were each assigned two intervention teachers despite substantially different enrollment figures. Most of the Title I schools did not raise any funds at all to pay for personnel.
As an added insult to the schools using hard earned fundraising dollars to pay for intervention services the District has informed school sites about a new directive this year that could dramatically increase the costs needed to hire qualified intervention teachers. In prior years, schools could hire part-time intervention teachers at a negotiated flat per hour rate.
This flexibility allowed schools to hire experienced educators, such as retirees, at much lower per hour pay rates than what their years of experience would typically dictate. The new rule requires that even part-time intervention teachers must be paid at a rate commensurate with their years of experience. The change could double the costs needed to hire experienced intervention teachers or force school sites to hire teachers with little or no experience.
School sites in Torrance are able to use locally raised funds to hire personnel due to a controversial decision by the School Board allowing the practice. That policy was first enacted in 2010. At the time, the District was weathering an economic storm that resulted in a sizable reduction in the District's teaching staff. The issue has divided the School Board ever since as Board members Terry Ragins and Mark Steffens have been consistent critics of the policy.
Their concern is that the policy essentially allows some schools to buy a better education for their kids than other schools in the District could afford. The most recent extension of the policy came in June of this year. At that meeting, Ragins once again voiced opposition to the policy by stating, "We are a unified district and we are not providing a unified and consistent set of resources to all of our students in all of our schools by allowing this."
It would appear that Ragins is correct. The District is not providing a consistent set of resources to all of the students in all of the schools. Ironically, however, the data shows that the schools sites that are raising the most money are those that may be getting the short end of the stick when it comes to intervention services.