Torrance Teachers Protest Over Stalled Contract Negotiations; District Net Worth Falls to Negative $28.7 Million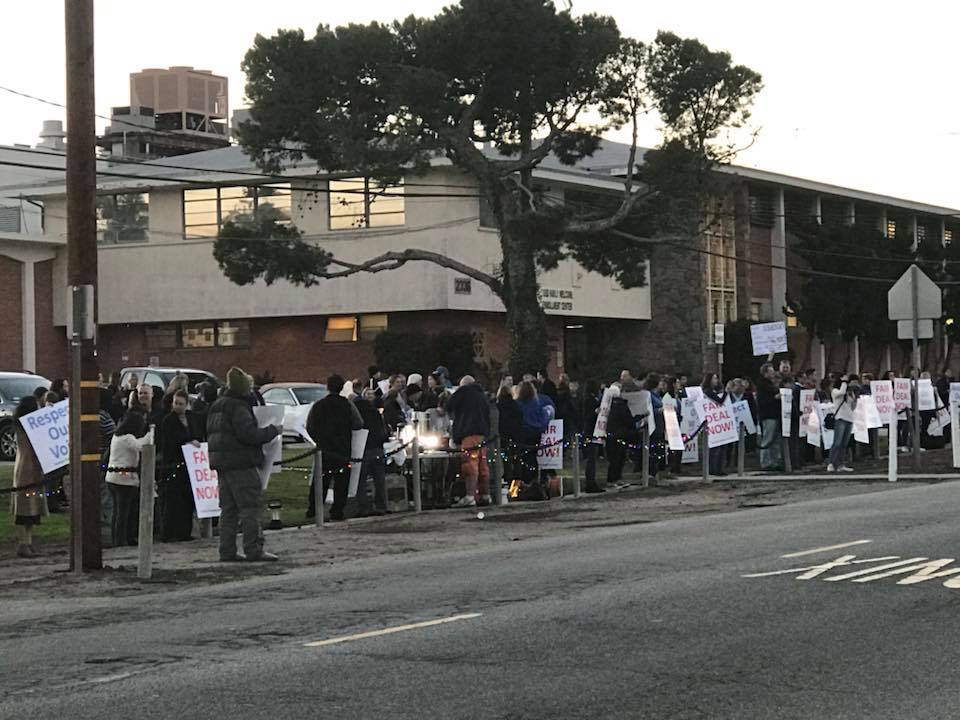 Torrance teachers picketed outside District offices on Monday during that evening's School Board meeting in protest to stalled contract negotiations. At the meeting, Torrance Teacher Association (TTA) leaders and several of their members either spoke or read letters submitted by other teachers in the District. The speakers commented on the lack of respect and support felt by individual teachers and echoed talking points providing to TTA members.  Some of the concerns raised by the TTA and its members were:
The administration implemented expensive programs (i.e  Solution Tree, RTI, FWEC, and Power School) and a pricey phone system without seeking input from teachers;
Expensive training for new programs takes teachers away from the classroom;
New programs do not seem to be yielding any benefits to students;
Classroom instructional time is being supplanted by extraneous testing (i.e. GATE, ELPAC, Interim CASPP, F&P, and PSAT);
New programs seem designed to extract more and more data from the students versus enhancing their education;
When TTA demanded that TUSD spend down its reserve, TTA didn't think that the administration would be allowed to go on a spending spree that would place the District in a position to not be able to afford salary increases and class size reduction.
After 10 months of bargaining, the TTA negotiation team had actually reached a tentative agreement with TUSD last October. In a newsletter to members at that time, TTA leadership noted that:
Over the past two years, TUSD has seen an increase in spending, programs, and position restoration/creation that has, for better or worse, significantly impacted the TUSD budget putting TUSD in a position to be staring at a funding shortfall in 2020. The TTA bargaining team feels that this agreement represents the "best deal possible" given the current priorities of the school board and TUSD administration.
In the last negotiated labor agreement, effectuated July 01, 2016, teachers received a 4% across the board raise, a $2800 cash bonus, and a $500 increase to their health and welfare contribution.
In comparison, the tentative deal included only a paltry 1% raise. The tentative agreement also included a controversial move to a new school year calendar that would have a pre-labor day start date beginning in the 2019-2020 school year.
The proposed deal fell through when it was not ratified by the TTA membership.
During the meeting, the School Board also accepted the 2016-17 audit report. That report reflected a $10 Million decrease in the District's net worth as it fell from negative $18.6 Million in 2016 to negative $28.7 Million in 2017. The decrease was due in part to a 15.2% increase in costs for all programs and services which raised total expenditures to $311.3 Million from $270.3 Million in 2016. The report noted that a significant contributor to the expenditure increase was due to increased salaries and benefits.