An Open Letter to the TUSD School Board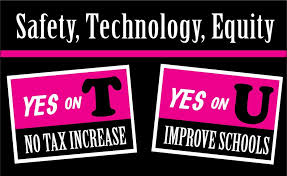 TUSD scored a huge victory on Election Day last week as the community voted in favor of both bond measures T and U giving the district another $200 Million in additional tax dollars to spend.   The noise has subsided, but the debate on how that money should be used as well as the larger debate about how best to improve our schools should continue.
At a community meeting former mayor Frank Scotto conveyed that TUSD was purposely vague on the intended use of the funds so as to allow TUSD more freedom in how the funds are utilized. In another meeting held at Hull Middle School current School Board member, Don Lee, begrudgingly acknowledged that the argument in favor of the school bonds pretty much boiled down to "trust us."  I do believe Mr. Lee and his fellow colleagues on the school board are good people that are trying to do what's best for our schools, but forgive me if I'm not quite as trusting as others might be.
Don't get me wrong, as a parent of four children in elementary school, I am glad to see more money going into Torrance schools and for that reason am pleased the measures passed.  Still, the recent campaign left lingering concerns in my mind.  To begin with, I didn't like how measure T was sold to the public as a measure that would not increase taxes.  Sure you could argue that the statement is technically accurate as T's passage just extended expiring rate increases put in place with previous bond measures.  So it wasn't a lie, but even though this kind of spin is common in political campaigns I found it deceptive and unnecessary.
It also bothered me that PTA organizations seemed to be strong-armed by the District into ponying up money donated from parents to support the yes on T and U campaign.  When parents donate to the PTA, I think they do so with the hope that the money will go directly to benefiting their kids school, not to support signs and mailers for political campaigns.  It's also troublesome that deputy superintendent of the TUSD, Donald Stabler, was fined by the FPPC for conduct stemming from his interaction with investment banking firm Stone and Youngberg, the underwriters of the school bonds.  These campaign tactics, and Mr. Stabler's conduct, undermine the trust that folks like Mr. Lee are hoping to engender in the public.
As the debate raged on about the bond measures over the past few months, we heard many valid arguments for why the money was needed.  What was never addressed, however, were the ongoing issues at our schools and what plans were in place to address them.  In a wealthy City like Torrance, how did our schools get in such a desperate predicament that they needed the taxpayer to provide such a substantial cash infusion by passing all these bond measures?  I hate to say it, but it kind of seemed like a taxpapyer bailout.  Has TUSD really been that underfunded all these years?  Or could it be that TUSD has failed to manage its funds wisely?  Maybe it's a little of both?
When I first heard about measure T my initial thought was, isn't a lot of this stuff things the district should be paying for anyway?  It concerns me when the District needs to borrow money to pay for what could be considered core functions of a school.  To me, it's akin to a family that needs to max out the credit card to keep the lights on.  Is it that unreasonable for a Torrance taxpayer to expect that the District would provide for such basic things as security, lighting, lockers, science labs, auditoriums, and technology without having to resort to bond measures?  It was reported, for instance, that lockers at Torrance High hadn't been replaced in 50 years.  I find that astounding.  Has money really been that tight at TUSD all these years that they couldn't replace lockers that were literally rusting off the wall?  Where is all the money going?
Sadly, the lockers are only one symbolic representation of the many needs that have gone unmet over the years.  Many of the schools suffer from downtrodden facilities and the lack of basic supplies.   Anza elementary, where my kids attend, holds a paper drive to cover shortages.  Yes, we apparently have a paper shortage at TUSD.  My kid's teachers often solicit parents for basic things like Clorox wipes.  No teacher should have to beg parents for basic cleaning supplies, and no kid should have to worry that there won't be toilet paper in the bathroom when they need to go.
The apparent paper shortage is even harder for me to believe when I hear things like the School Board recently "voting to spend $1.8 Million to purchase new Common Core-aligned math textbooks for elementary and middle schools, even though the committee that recommended the materials made only a lukewarm endorsement" due to concerns that they may or may not suffice.
With such a lack of supplies at our schools, I sometimes wonder how the District administrative offices get along.  Do they have paper drives to run the copy machine?  Does Mr. Mannon and company need to hold a bake sale to get toilet paper in their office bathrooms?
Since I mentioned Common Core, could someone at the District please give me a straight answer on what is going on?  It's all very confusing.  The roll-out of Common Core at TUSD has been high on promises, but very short on the details.  What is the exact curriculum?  How often will my kids be tested? What type of questions will be on the test?  Can I see the test after they take it?  I feel like answers to these questions should be readily available.
Since we mentioned superintendent Mannon I should note that he was recently quoted as saying that "safety is at the forefront of how we look at schools."  Given that premise, I'm left wondering why the district hasn't done more to protect the kids as they cross busy streets to and from school.  Many of these streets can be dangerous as was evidenced by the tragic accident that occurred recently at Walteria elementary involving the Clift children.  I do hope some of the bond money goes towards improvements in that area and not just on fencing and cameras to prevent another Sandy Hook.
As for the so-called "enhancements" in Measure U my concern is that the community is not getting the biggest bang for our buck.  I agree that the Plunge is woefully outdated and that a new aquatic center would be nice, but if the idea is for it to benefit the entire community than I believe TUSD and the City should pursue something more people will use than an Olympic size lap pool.
I would point the City leaders to what Provo, Utah recently accomplished with a $39M bond.   They got a breathtakingly awesome facility that includes an olympic size lap pool with stadium seating, indoor and outdoor wading pools and play centers, cool slides, cliff jumping, lazy river, complete gym, several full size b-ball courts, racquetball courts, skate park, child center with indoor playground, senior citizens center, game rooms, party rooms, and more.  Why then here in Torrance does it take $50M to get one pool, and a few b-ball courts?  My plea is that as the plan develops that it will evolve into something closer to what Provo did so we will eventually have something that the entire community can enjoy and that will move us towards being a more family friendly city.
Another thing that worries me is how dependent some of our schools have become on parental involvement and donations.  In my ideal world, our public schools could get by just fine without any parental involvement.  Isn't that why we pay taxes?  To me, any help by parents should be a bonus not a necessity.  I wholeheartedly applaud and stand in awe of how much support parents give our schools.  I know many parents that literally have full time unpaid jobs working in our schools.  But I wish all that support was going to enhancing the educational experience not performing core functions.  At some elementary schools for example, parents are literally fitting the bill to pay for salaries for needed intervention teachers.  I'm not comfortable with that as a long term solution for our schools.
By passing Y and Z and now T and U Torrance taxpayers have entrusted the District with well over half a billion dollars.  That represents a massive investment by the community.  Mr. Lee and the rest of the School Board have pleaded for our trust.  We've given it to them.  For my kids sake and the sake of all the kids that are attending and will attend Torrance schools, as well as for the community as a whole, I hope that trust wasn't misplaced.  Now it's time for the School Board to complete their end of the bargain.