Will Torrance Crack Down on "Happy Endings" Hurt Local Businesses?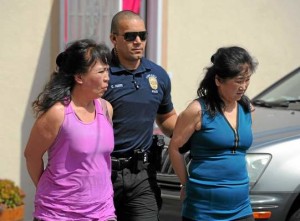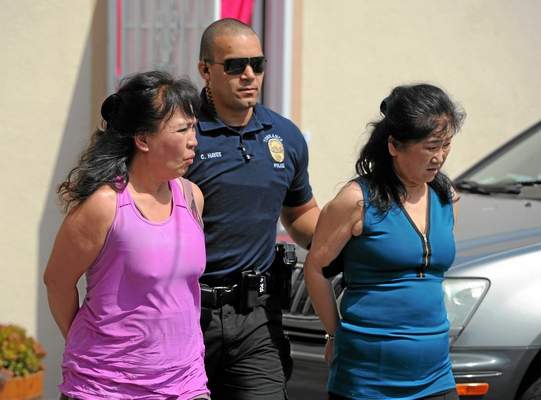 Torrance is considering a new ordinance that is designed to curtail illegal activity that may be occurring at some of the 61 massage establishments currently operating within the city.  It could, however, end up harming local businesses.  The proposed ordinance would prohibit any new massage establishment from opening in a location that was closed due to criminal activity for a period of two years.
The staff report explained that the Torrance Police Department (TPD) has recently conducted successful undercover "sting" operations that have resulted in the eventual revocation of the massage establishment's business license.  As reported recently by the Daily Breeze, these operations include the TPD sending male officers into the establishments to see if masseuses offer more than just a massage.  One of these operations resulted in the arrests of the two individuals pictured above, one of which allegedly performed a sex act on an undercover officer.
According to the City, these undercover operations are time consuming and expensive to perform.  The concern is that even when the city is able to shut down an offending establishment it is all too easy for the property owner to re-lease the premises to another massage business as all of the fixtures necessary to perform such an establishment usually remain in place.
Unfortunately, the ordinance also has the potential to have a negative impact on the business community.  The restrictions placed upon re-leasing could create further vacancies in an already challenging commercial real estate market.  In addition, it could create hardships for legitimate massage establishments as their entire operation can be shut down by one rogue employee trying to make an extra buck.
That was precisely the concern raised by the Miyako Hotel at a recent hearing on the subject.  A representative from that Hotel worried that the Hotel's spa could be closed due to the actions of only one employee.  The representative also mentioned that the services provided by the spa were a major component of the Hotel as those services are an integral part of the Japanese culture – a key clientale of the Miyako Hotel.  Implementing the ordinance could serve another blow to the Asian business community that is already reeling after the recent announcement that Toyota will move its Torrance based headquarters to Texas.
Will this ordinance have the intended effect of limiting the growth of seedy massage establishments that are nothing more than fronts for prostitution?  Or will it further degrade the ability of legitimate businesses to operate within Torrance?  The City Council will grapple with these questions when they decide the issue at the Council meeting this coming Tuesday night.
This issue also raises another interesting question that is ancillary to the matter but worthy of debate.  With burglaries and car thefts on the rise in Torrance, is having the TPD officers go undercover soliciting and apparently receiving "happy endings" the best use of the TPD's limited resources?